Dear Friends,

Happy Pub Day to Raquel Salas Rivera for their new book while they sleep (under the bed is another country) officially out today!!!

And double congrats and celebration of Raquel for winning the LAMBDA Award for their book lo terciario / the tertiary (Timeless Infinite Light, 2018) last night!! (look out for the new edition from Noemi Press forthcoming 2019 with an intro by Urayoán Noel and images by José Ortiz-Pagán)

Raquel's book is the HANDPICKED Book of the month of June at Small Press Distribution. Get while they sleep... at 20% off w/ the code HANDPICKED.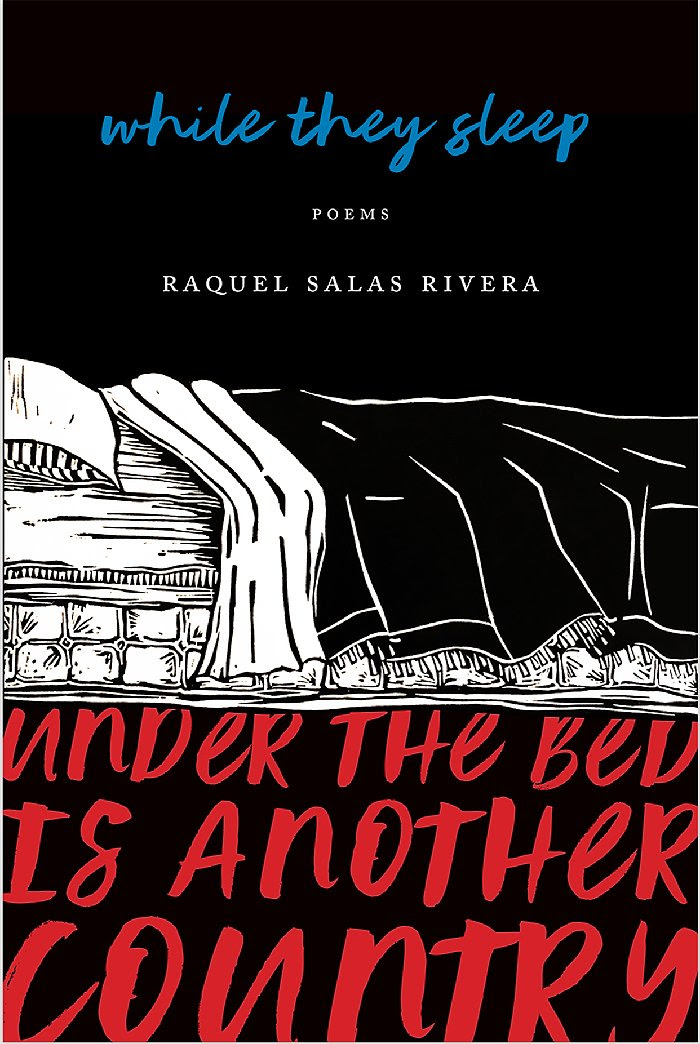 while they sleep (under the bed is another country" is also recommended as Books to Read in June by Literary Hub.
"Raquel Salas Rivera's new collection while they sleep (under the bed is another country) confronts the aftermath (duringmath?) of Hurricane Maria and the ongoing imperial violence of the U.S. in its territory/colony Puerto Rico. In English in the main body, and in Spanish in the footnotes, the book offers fragments, shards, from two parallel narratives—the view from the U.S., which passively observes the chaos from afar, where "64=4,645" and throwing paper towels is "a humanitarian gesture"; and the monster under the bed, the suppressed demonstration of pain and active survival in Puerto Rico, where there's no use for health insurance because the hospitals still have no electricity. Critical, clear, crucial, while they sleep shows how America has made its bed and forces us to sleep in it."
–Kevin Chau, Lit Hub

Watch Raquel reading at their amazing launch event for while they sleep... at ICA Philadelphia!!!

If you're interested in reviewing this book, adopting it for your class, or inviting Raquel to read or give an interview, please let us know and we'll be happy to help: editor@birdsllc.com.
THANK YOU FOR SUPPORTING SMALL INDEPENDENT POETRY PRESSES.
Love,
Birds